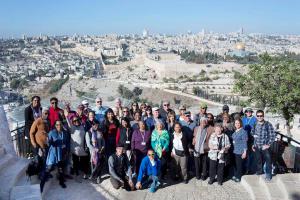 Merry Band of Adventurers on the Mount of Olives in Jerusalem
Freeman Institute Tours, with groups in different locations
Freeman Institute Tours leading a group in Ein Gedi, Israel
5-Star Rated Trip of a Lifetime. All-Inclusive. Educational. Safe. No Bull. No Hype.
Best trip ever! Learned so much. Dr. Joel Freeman is a great resource & is connected to great resources in Israel. Great overview & plenty of details. Good group size for a great personal experience!"
— Jim Johns
NEW YORK, NY, UNITED STATES, March 28, 2018 /EINPresswire.com/ — Looking for people interested in connecting the history, archaeology, geography & topography of Israel to their personal understanding of Biblical times
Over the years, hundreds of travelers from various parts of the world have absolutely loved the Freeman Institute Tour experience.
The trip of a lifetime…with a seasoned tour leader, great food, excellent hotels, unbelievable sights, the best guide in Israel and exciting itinerary.
Masada. Galilee. Qumran. Jerusalem. Valley of Elah. Jaffa. Tel Aviv. Dead Sea. Tiberias. Nazareth. Capernaum. Ein Gedi. Caesarea Philippi. Mt. Arbel. City of David. Gethsemane. Upper Room. Western Wall. Kotel Tunnel. Magdala. And so much more…
UPCOMING TOUR: 2018 Fall Israel trip (Nov 8-19). Get on the list. Review the videos, cost, itinerary and much more here — www.IsraelCrazy.com
RAVE REVIEWS: "I took a trip to Israel with Joel Freeman and our time was an experience beyond my wildest dreams. Joel orchestrated a tremendous experience for our group which included me — a former NFL chaplain — and Bobbie Williams, one of our Super Bowl winning players and his family. We had top tier accommodations all the way! Thanks, Joel, for a life-changing experience!!!" – Rod Hairston, NFL Chaplain (retired), Baltimore Ravens
Call with any questions — 410-991-9718
And when you call, ask for the three reasons why a tour of Israel with Freeman Institute tours is different from all the others. And then ask about the safety of visiting Israel.
WHAT'S COVERED?
1. Non-stop, R/T air travel from NY to Tel Aviv
2. Ground travel (includes cost of driver and tour bus)
3. Hotel rooms and food (includes breakfast/dinner)
4. Israeli registered tour guide for entire trip
5. Entrance fees to all parks and museums
Last trip sold out quickly. Seats still available. Limited number. First come first served.
Are you in?
Earn your MBA (Merry Band of Adventurers) in the history, geography and topography of the Holy Land….
Check out videos, itinerary, cost, reviews and other information and then call — www.IsraelCrazy.com
Dr. Joel A. Freeman
Freeman Institute Tours
410-991-9718
email us here
Israel Adventure

Source: EIN Presswire