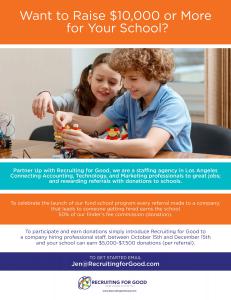 Start Today

Since, 1998 R4G Has Been Helping Companies Find Talented Professionals www.RecruitingforGood.com
Love to Make a Difference Join Recruiting for Good Today
Recruiting for Good, using placements to help fund kid causes; will reward referrals to companies with 50% of proceeds generated to help fund schools in LA.
We help parents raise money for their schools to change kids lives for good."
— Carlos Cymerman, Fun Advocate+Founder, Recruiting for Good
SANTA MONICA, CA, UNITED STATES, October 4, 2019 /EINPresswire.com/ — Recruiting for Good (R4G), a staffing agency generating proceeds to help fund Kid causes and rewarding referrals with donations to schools. R4G will reward 50% of every fulltime placement fee earned between October 15th and December 15th, 2019.
According to Recruiting for Good Founder, Carlos Cymerman, "We love to help parents and schools raise money for educational programs that challenge kids to grow from within (creative, language arts, meditation, religious, and special ed), scholarships, and travel."
2 Ways to Participate in R4G Fund School Programs
1. A company sends open positions directly to Jen(at)RecruitingforGood(dot)com; chooses which school benefits from placement donations.
2. Parent introduces a company hiring professional staff; can choose which school benefits from placement donations.
3. Once Recruiting for Good, finds the company a talented employee, and earns a finder's fee (and employee completes probation period); a donation is paid directly to the school.
Carlos Cymerman adds, "We especially love to help fund Sunday school scholarships to give kids in need the opportunity to attend the best schools in the city. In Sunday School, kids learn positive values. They discover joy and their inner compass for doing what is right and good for the world. And ultimately, become the best version of themselves."
About
Recruiting for Good is a socially progressive staffing company in Santa Monica, finding talented professionals great jobs they love, since 1998. Companies retain us to find them the best talent in Accounting/Finance, Engineering, and Information Technology, Marketing, and Sales. And generates proceeds for Kid causes www.RecruitingforGood.com
Recruiting for Good is helping fund cause 'Meditation for Kids,' with a fun mission to teach kids peace of mind and improve their lives. Recruiting for Good will generate proceeds from placements…launching in 2020.. To learn more visit www.RewardingMeditation.com
Carlos Cymerman
Recruiting for Good
+1 310-720-8324
email us here
Visit us on social media:
Twitter
LinkedIn

Source: EIN Presswire